Can you put Amazon affiliate links on YouTube
? 
It's a question we often get asked by our community. The answer is yes, you can.  
But you must know how to add Amazon affiliate links to YouTube videos correctly before you can make affiliate sales. There are also several Amazon Associates program policies you must follow to succeed.
So, let's talk about Amazon affiliate marketing on YouTube today.
We'll cover everything you need to know to monetize your YouTube channel with Amazon and increase your income. Specifically, you'll learn:
How to add a YouTube channel to the Amazon affiliate program

How to create an Amazon affiliate link for YouTube

How to put Amazon affiliate links on YouTube
After reading this article, you'll have a solid blueprint to earn commissions and make money with your video content.
Basic Amazon Affiliate Program Rules For YouTube
Like all affiliate programs, the Amazon Associates platform has rules anyone looking to join must understand and follow. 
The rules for Youtubers are somewhat similar to those of website owners since the revenue model is the same.
They involve disclosing your relationship with Amazon and adhering to the program's policies and user agreement.
Full Disclosure    
Amazon requires you to disclose that you are an Associate whenever you post an affiliate link on YouTube. 
You must be transparent and clear when doing this, so your audience understands what happens when they click your affiliate links.
The platform suggests two ways of doing this:
Use specific language laid out in the program's operating agreement.
In clause 5 of their operating agreement, Amazon requires you to include the following statement in your account:
"As an Amazon Associate, I earn from qualifying purchases."
You can also use a variation of the statement above, such as:
There are no specific recommendations on where you should place your disclosure statement. But it must be associated with your account.  Many YouTubers prefer placing it on the about page of their YouTube channel.
Include a legally compliant disclosure next to your link
The platform also requires you to comply with all government regulations on using affiliate links. 
These are the Federal Trade Commission (FTC)'s guidelines for informing users that you receive payments for promoting specific products.
Following FTC guidelines, your Amazon affiliate links must show clearly and conspicuously that you earn from them. We'll explain how below.
FTC Disclaimer
The Federal Trade Commission (FTC) is the official government body that protects consumers in the U.S. from false advertising. 
The commission has specific guidelines all advertisers must follow to ensure innocent consumers don't purchase harmful products. One of these guidelines is using the FTC disclaimer to reveal your affiliate partnership with the retailer.
Similar to the Amazon disclosure, the FTC disclaimer must indicate that you receive payment whenever an individual purchases a product through your links. 
The main difference between the Amazon disclosure statement and the FTC disclaimer is how you place the link in your account.
While you can put the Amazon disclosure statement on your YouTube channel's about page, you cannot do the same with the FTC disclaimer. For FTC, the disclaimer phrase must be noticeable. 
Preferably, place it next to the affiliate link or at the top of every video description with an affiliate link.
You can use simple statements like:
 "I get a commission every time you purchase a product through my affiliate link below." 
Or short phrases like #Ad, #PaidLink, or #CommissionsEarned next to every affiliate link.
Following YouTube's structure, we recommend using short phrases. Ensure they are conspicuous by italicizing them or using a different font from the link.
Here's how to meet Amazon and the FTC's requirement for disclosing affiliate links on YouTube: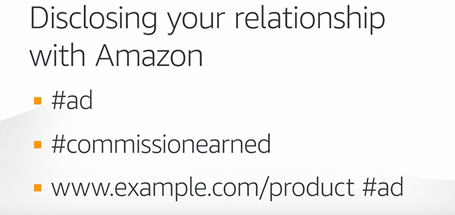 The FTC recommends several short phrases you can use other than the three we've mentioned. You might want to follow our review on Amazon affiliate disclosure generation sites to learn more.
Amazon Associates Disclaimer
The Amazon Associates Disclaimer is a variation of the disclosure statement we discussed.
Often, the two terms – Amazon disclaimer and Amazon disclosure – are used interchangeably.
But are they the same? Find out more in this review about Amazon affiliate disclaimer generation sites. It discusses the subject in-depth. 
Don't Use Cloaking 
Cloaking, sometimes called URL masking, involves removing some sections of an affiliate link and replacing them with more professional-looking names.
When you cloak a link, users may find it difficult to tell whether it is an affiliate link. 
It's also hard to know the link's final destination. 
Because of this, Amazon doesn't allow cloaking. It is one of the most common reasons creators lose their accounts.
Instead, the platform encourages posting affiliate links directly.
You can use link shorteners to reduce the length of links. But you must indicate where you're directing viewers and why. 
To do this, add the company name "Amazon" close to any affiliate link you generate using an allowed third-party link-shortening tool.
It helps to establish trust with your audience. Shopper's trust is a concept Amazon takes into account seriously. 
Alternatively, use our AmzWatcher Amazon affiliate link generator tool. We created it specifically for Amazon. So it's perfect for shortening the platform's affiliate links following all the required guidelines.
Read this article on how to shorten Amazon links to gain more knowledge on the subject.
Comply with Amazon's Anti-Counterfeit Policy
Another reason you might lose your account as a Youtuber is failure to comply with the platform's anti-counterfeit policy.
Specifically, don't use words like fake, faux, or dupe in connection with a specific brand during your video presentations or vlogs.
Also, don't promote counterfeit products or items that infringe on other people's intellectual property rights.

How To Add Youtube Channel to Amazon Affiliate Program
There are two ways of adding your YouTube channel to the Amazon affiliate program. It just depends on whether you're already a member of the Associates program. 
Method One:
If you have an existing Amazon affiliate account, all you need to do is update your list of traffic sources to include your YouTube channel. To do this:
Log into Associates Central.

Hover over your email address in the top-right corner to reveal the drop-down menu and select account settings.

In your account settings, add your YouTube channel as part of your traffic sources and update your information.
Expert tip: Ensure you enter your channel details correctly. Don't just use the official youtube.com URL – this is a common mistake many affiliates make.
Method Two:
If you are new to the Amazon affiliate program, you'll have to create an account from scratch.
We've created the best step-by-step Amazon associates guide you can follow to join the program. 
When you get to step 4, choose to add your YouTube channel instead of a website. Be sure to use the exact URL of your channel. 
Once you finish, follow the prompts to complete your sign-up process and gain access to Associates Central.
There, you'll find all the resources you need to start creating Amazon affiliate links for your YouTube audience.
How to Create Amazon Affiliate Link For Youtube
Follow the steps below to create Amazon affiliate links and start recommending products through your YouTube channel
Step One:
Log in to your Associates' dashboard and go to the product linking tab.
Step Two:
Select product links under the drop-down menu and click.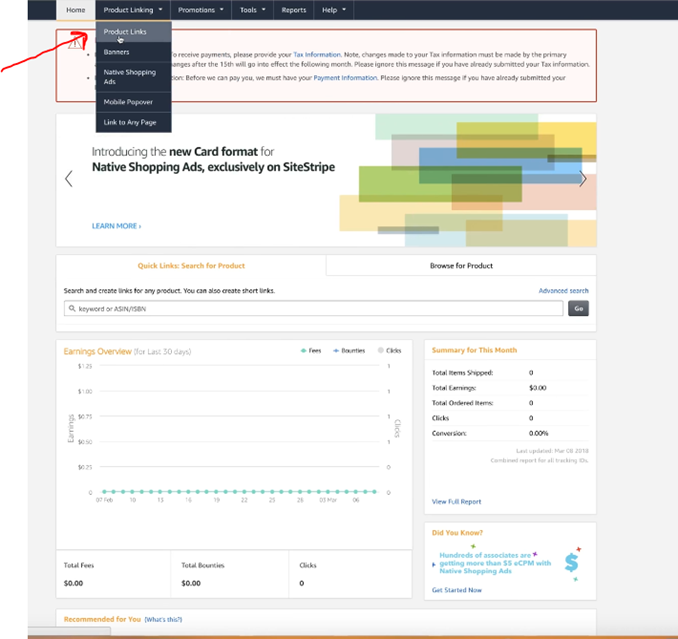 Step Three:
Open the product search area where you can search for any product to promote.
Step Four: 
Search for the specific product you'd like to promote, e.g., blue mic. Then click the get link tab as shown below.
Step Five:
Open the page where you can get the affiliate link you need to promote the product (in this case, blue mic) to your audience.
Amazon provides three types of affiliate links – text and image, text-only, and image-only.
Text and image
Text only
Image only
You'll notice all the links we've highlighted are too long. They might work well on a website, but placing them on your YouTube channel would appear chaotic. 
To create an affiliate link you can use on YouTube, continue with the following steps.
Step Six:
Go back to the products links page and search for the product blue mic again. 
This time, instead of clicking the 'get link' tab on the product's image, click the tiny arrow next to the get link tab.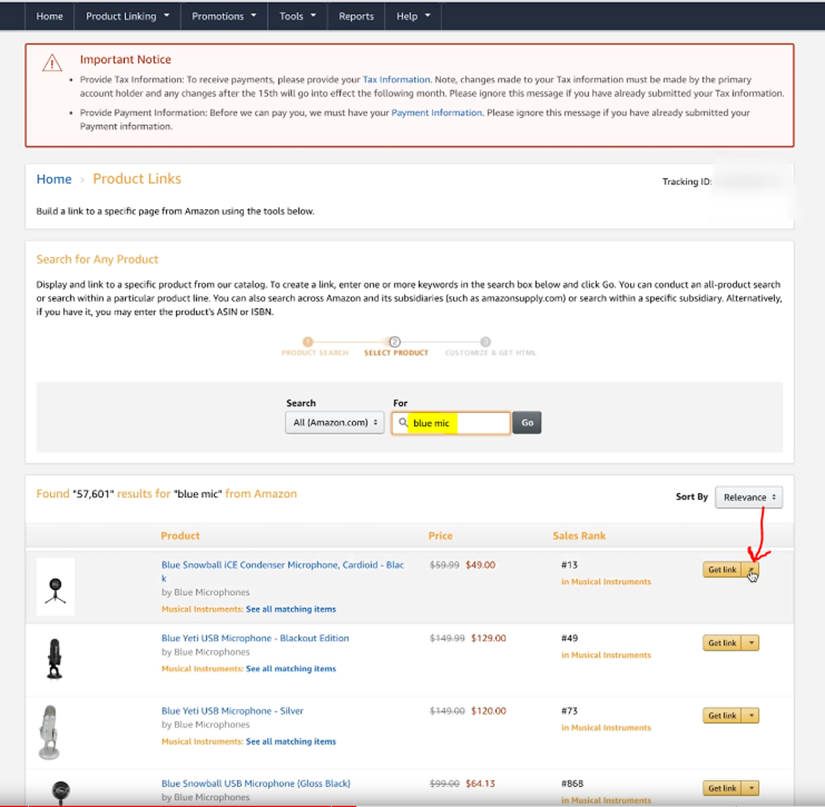 Step Seven:
Open the product's text link as shown below.
Step Eight:
It's still quite long. Click the shortened URL with amzn.to tab to get a shorter version.

Step Nine:
You'll end up with a good affiliate link you can use to earn money from your YouTube audience.

How to Put Amazon Affiliate Links on YouTube
Add Links in the Video Description
You can add any Amazon affiliate link in the YouTube description of your videos by following these steps:
After copying the YouTube affiliate product link you created in step nine above, log in to your YouTube channel. 
Select the video you'd like to place the affiliate link on, and navigate to the basic info section of the video. It could be a tutorial or product review video on something related to the item you're trying to promote.
Paste the affiliate link in the YouTube description, and click save changes.
That's it! Your link is up and running, and you're ready to earn affiliate commissions. 
On the video's front end, this is how the link appears.
When people click on it, they'll go straight to the product on Amazon, as shown below:
Did you know you can earn a commission for Amazon products you don't promote? 
If someone clicks your referral links and adds other qualifying Amazon products to their cart while shopping, you'll earn a commission when they make the purchase. 
This is one of the reasons Amazon Associates is among the most lucrative YouTube monetization methods. 
Add Links to Your Videos
This section is for you if you've been wondering how to use Amazon affiliate links on YouTube videos.
Another way to add links is through a pinned comment in the comment section. Set it as the first comment people see before they comment on the video. 
Ensure you're providing value for the viewer here.
For instance, if you upload tutorial videos, you can use a pinned comment to break down your video. Show the time stamps for each step so viewers can always rewind to confirm the steps as they wish. Your affiliate link should be noticeable on the pinned comment too.
We recommend placing your affiliate link in both sections (the video description and pinned comments section) to increase your conversion rates and make more money.
Benefits of the Amazon Affiliate Program
The Amazon affiliate program has several benefits, including:
Sizeable Market Share
Amazon is the 5th most valuable company worldwide, with revenue of about $502.19 Billion. It accounted for approximately 37.8% of the U.S. e-commerce market by June (2022). 
You become part of this growing venture and earn a share of its revenue when you join the company as an affiliate.
Massive Product Catalog
Including products from third-party sellers on the platform, Amazon has over 350 million products in its catalog. That's a considerable range of products you can promote and earn.
Easy to Use
The Amazon affiliate program is easy to use and navigate. The program is in-house and provides excellent customer support to its affiliates. You get access to several guides and training manuals to help you succeed.
International Coverage
The company has dedicated e-commerce websites for several countries worldwide. You can target audiences in the countries you operate in. 
Attractive Commission Rates
Amazon associates offer some of the best commission rates in the industry. You can earn anywhere between 1% to 20% in commissions, depending on what you promote. 
Also, the platform offers promotional commission rates from time to time. When there are certain products to prioritize promotions for, Amazon will increase its rates for affiliates during the campaign.
High Conversion Rates
Sales on Amazon happen almost automatically. Their e-commerce websites maximize conversions by encouraging and directing users to make their purchases smoothly. 
Users also trust Amazon and are comfortable purchasing from the site.
Reports and Product Recommendations
You can generate affiliate reports to inform your marketing strategies and increase your affiliate income.
The company also sends out seasonal product recommendations to alert affiliates to the best-selling products in a category. You'll know which products to focus on promoting at a given time and can make more money.
Amazon Affiliate Link Tips for YouTube Bloggers
Here are a few tips to increase your chances of succeeding as an Amazon affiliate on YouTube. We hope you're ready to capitalize on this great opportunity by now. You can use it to supplement your AdSense income.
Your Videos Must Be Awesome
Great or engaging videos educate, entertain, or inspire. Aim to do one or all three with your videos, and you'll build a loyal following. 
Always highlight how a product can help your audience solve a particular problem. Tutorial videos work great for this purpose. 
The products you recommend become part of the story viewers connect with in the tutorial. You can create a brand that'll last a lifetime this way.
Try to Make Different Types of Review Videos
If you create review videos, comparison review videos are the best. Offer people alternatives to consider, but help them decide on the best option for a particular purpose or overall.
Taking your audience through the product comparison process keeps them engaged and helps them feel included in decision-making. 
They'll click your affiliate link to purchase a product you've helped them decide to buy. Ensure you recommend products that your audience actually needs. It'll help build trust and authority around your content.
Be Honest and Open in Your Videos 
Be open and honest in your videos, but be mindful of your language and tone. You want to remain compliant with Amazon's counterfeit policy and avoid using certain words in your videos. At the same time, it's critical to maintain viewers' trust too.
Create Good Video Scripts to Guide Your Video Creation Process
The best video scripts are modular. By modular, we mean video scripts divided into different segments. Using such scripts will help you provide value to your audience from start to finish.
You can easily tell what value each video section brings to your audience and how it helps convert your viewer into a customer at the same time.
FAQs
Do I Need to Send my Channel to Amazon for Approval?
It depends on whether you're an amazon associate already or not. If you are, you'll only need to include your YouTube channel as part of your traffic sources.
But if you aren't, you'll have to create an account and add your YouTube channel as your primary traffic source. In this case, you'll need approval, but it doesn't take long.
We've provided step-by-step instructions on how to do this above.
How Much do Amazon Affiliates Get Paid?
Amazon affiliates earn on a commission basis – 1 to 20% commissions depending on the category. 
For this reason, there is no limit to how much an individual gets paid. Some affiliates make over six figures per year.