As one of the world's most extensive affiliate marketing programs, Amazon affiliate allows the content-creators and bloggers to earn a commission by monetizing the traffic. According to the source , 83% of marketers harness the program's power to elevate their brand's awareness level.
You can join the program for free and create an associate account to set up your store. Here, you can create several tracking IDs to keep track of all your commissions.
In this article, we at Amzwatcher, developers of Amazon's affiliate link checker will clarify all your doubts about Amazon Associates Store ID. You will get a step-by-step guide to creating your account with the Amazon associates program, fetching Amazon associates store id, the difference between Amazon store and tracking ID, and several other things.
So, without any further delay, let us dive into the details.
What Is Your Preferred Store ID On Amazon?
This is the superset of all the affiliate links you create for different products to earn profit. In layman's words, the associates store ID on amazon is the name of your store where you can create links for different products and add them to your websites and blogs.
What is an Amazon affiliate store ID? 
You only get one unique preferred associates store ID for your account. Amazon keeps track of tons of store IDs for different users, so it adds a unique number at the end of your preferred associates ID to keep proper track and create your affiliate store ID.
If you belong to India, your store will end with the code '-21', and if you belong to the US, your preferred associates ID will end with code '-20'.
Examples
An important aspect – indicating the correct ID in your affiliate links it directly affects your affiliate income, be sure to consider it! You can calculate your affiliate income for free with our amazon affiliate commission calculator.
How to get Amazon preferred Associates Store ID? 
You need to create an account with the Associates program to get the preferred associate store ID. Here is a step-by-step guide to joining the Amazon associate program and getting your ID.
Step 1: Join The Amazon Associate Program 
First, you need to go to the homepage of the Associate program. You can search for the name in Google or click here to visit it.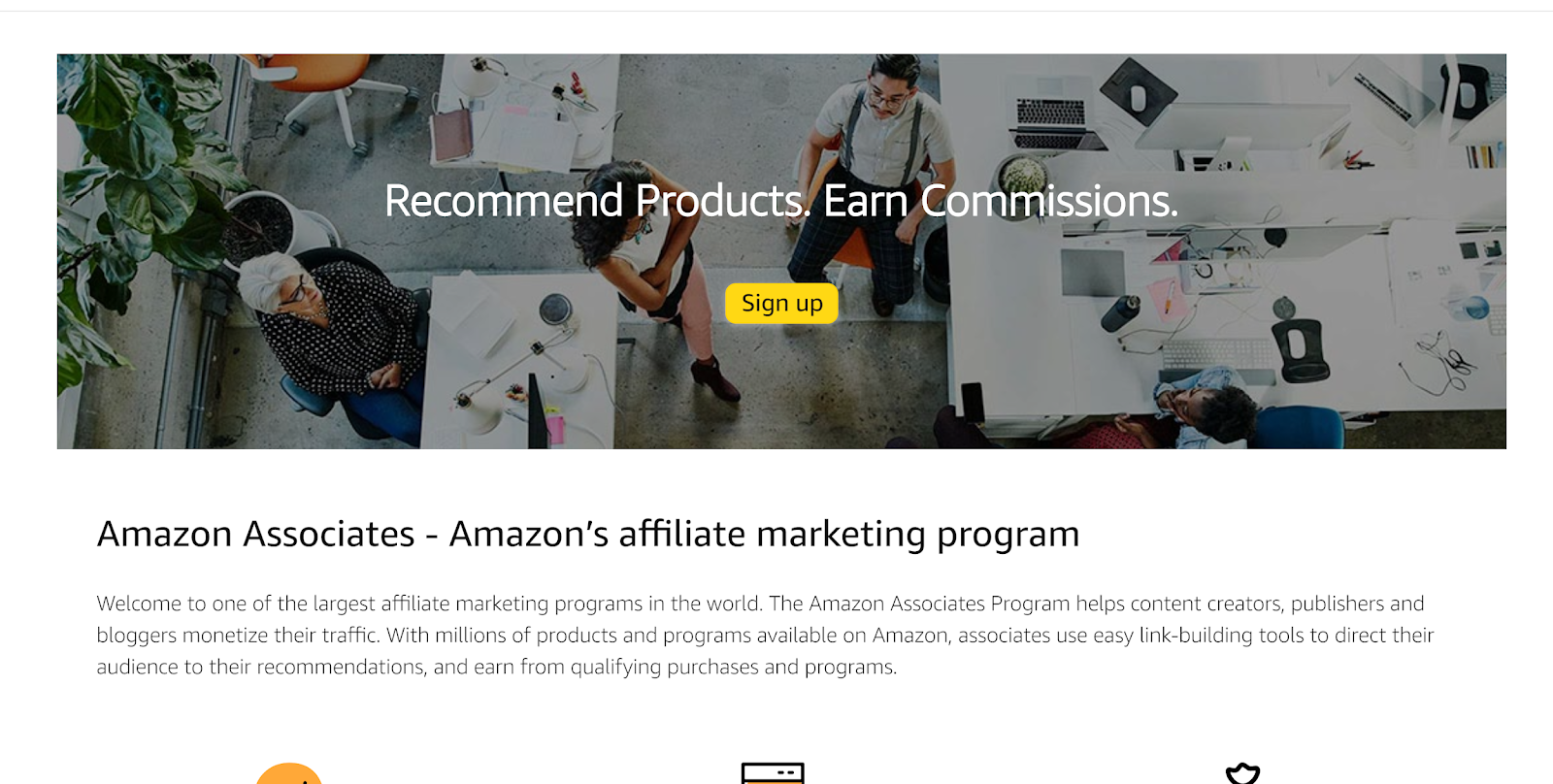 Step 2: Create Your Amazon Associate Account 
Click on the Sign-Up option to create your account.

Make sure that you have a valid account on Amazon. If not, then you need to create an Amazon account to move ahead.

Now, use your account credentials to join the program.
Now in the next window, you will see all your account information. Select the correct information and click on the Next option.
Now, you need to add all the top-level websites and apps where you want to display the affiliate links. Remember, you have to add the complete URL of your site here.
Make sure that all your websites and apps are fully developed, as the company will review them properly. After adding all the websites and apps, click on the Next button.
You must create your Amazon affiliate store ID and fill in the correct information about your profile.

Make use to use something memorable such as the name of your website. Your preferred associates store id will become name_of_my_website-20 for the US area. The code will change according to your area.

Now add the details to monetize your website and blogs and click on the Next option.
All done.
Amazon Associates Store ID VS Tracking ID 
Amazon store ID is a superset of the Amazon Tracking IDs. You can make up to 100 tracking IDs in one store ID. A tracking ID is used to track the performance of a particular website or app and accumulate all the earnings under a single store.
For example, with the MyNewProject-20 store ID, you can have multiple Amazon affiliate tracking IDs to monitor different mobile apps and websites. You can use MyNewProjectA-20 to track your main website and MyNewProjectB-20 to track the earnings of your mobile app.
Expert Advice 
As you can make up to 100 tracking IDs in one store ID, use short names or something memorable such as YourSiteName to differentiate different tracking IDs. It will allow you to manage them properly and look for the specific one in a jiffy.
How to create a new tracking ID & manage them? 
Here are some easy steps to create and manage tracking IDs.
Login using your primary Amazon account and click on your email address.

After this, click on the Manage Your Tracking IDs option.

Now click on the Add Tracking ID option to create a new one for an Amazon Product.

Write a name for your tracking ID. Amazon will show the available options. Select anyone of them and click on the Use Selected option.
To search for a specific one, write its name in the search bar or look it up in your list of tracking IDs.
How To Find My Preferred Associates Store ID On Amazon? 
You just need to sign in using your correct credentials with Associates Program. Once you do, you will find your Amazon Associates store ID in the top right corner of your window.
How To Add Amazon Affiliate Links To Your Website? 
You need to add affiliate links to your site to earn commissions. You can use the Site Stripe tool to quickly add text links, image-only links, or text and image links to your website. In order to generate amazon affiliate link use our free tools. If you are a developer, you can integrate the products into your website using product advertising API to earn a percentage of revenue.
Can I Change My Preferred Associates Store ID? 
No, you cannot change your store ID. However, you can close your store and make a new one with the preferred name. Here are the steps to close your account.
Steps To Close Amazon Associate Account 
Sign in with your primary account.

Click on your email and then select the Account Settings option.

Now click on the 'Close Account' option.

All done.